Hi friends! Happy hump day! I always feel silly when I say that but couldn't help it today.
I hope you're all having a lovely day. I'm sitting at my computer trying to work and wishing I was doing something
much more fun
.
Oh the joys of being an adult
! Work is a priority.
I'm guest posting over at
StressCase
today! The theme was
"When I was 18"
and I put a little twist on it for fun. Hop on over and check out the
post
, would ya? And browse around Casey's blog while you're at it. She is
fabulous
and you'll get hooked reading her posts!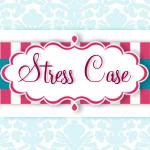 Enjoy!