I must admit, lately I haven't been a good blogger. And I haven't participated in the
Sunday Funnies
link-up with
Kara
in awhile. (
Insert sad face
). I could make excuses and say I haven't had any time but I won't do that. That would be lying. I have flat out just been lazy.
Straight up truth
.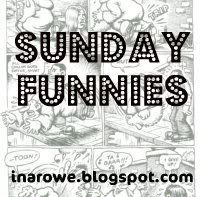 Even though it's already 7pm here I decided that it was time I get back into the swing of things and get my laughing pants on!
Happy Sunday ya'll! Have a wonderful night.